Email marketing platforms that work well with WordPress lets you integrate email marketing strategies with your website effortlessly. In a tightly competitive digital world, any marketing advantage such as this can spell the difference between a successful or dismal marketing campaign.
WordPress provides several email subscriptions and marketing plug-ins to help you create, right from your WordPress dashboard, professional-looking emails. It makes it easier for you to manage subscriptions and lists, see the metrics of your campaigns instantly, and track conversions as they come.
Here are 10 of the most popular email marketing plug-ins that you should consider if you want to boost your email marketing now:
10 Popular WordPress Email Marketing Platforms:
MailChimp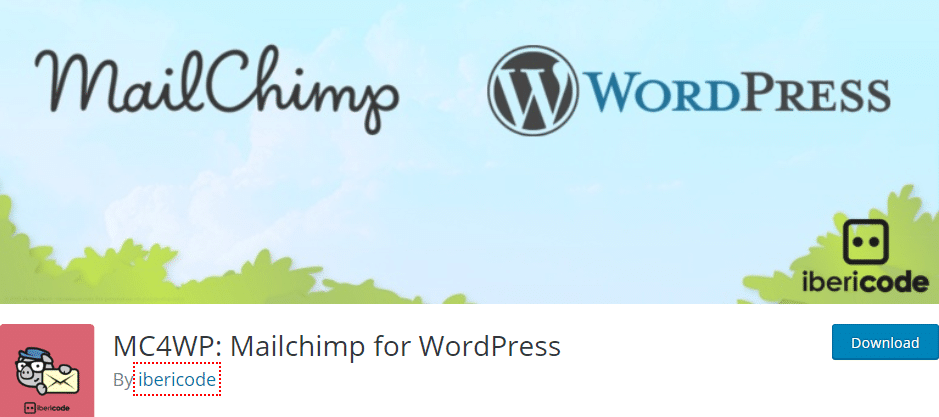 Mailchimp is an all-in-one marketing platform that can help you grow your email subscribers list, write better newsletters, and build opt-in forms that help you reach many users.
Mailchimp is known for its appealing and user-friendly sign-up forms that can be modified based on what information you want from your visitors. Just be cautious in what information you are getting, as visitors tend to be wary about sign-up forms that ask for too much information.
You can also do seamless integration with other WordPress plug-ins, like Default WordPress Comment Form and Registration Form, WooCommerce, Gravity Forms, WPForms, among others.
You can get the best product‑market fit and get valuable user feedback, which is all useful as you launch your marketing campaign.
2. OptinMonster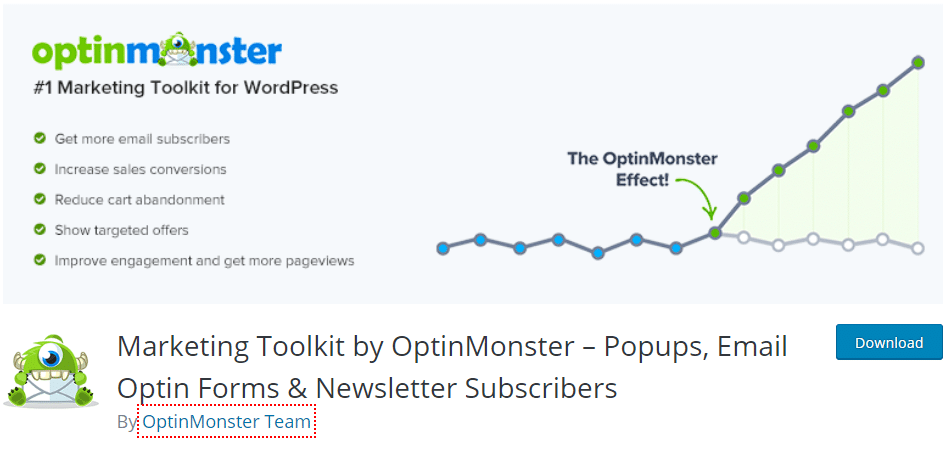 OptinMonster promises to turn 70% of visitors that may never return to subscribers and customers. The plug-in aims to give you growth results in as little as a day. It is an all-in-one marketing plug-in and pop-up builder that helps you increase email subscribers, sales, and, ultimately, your business.
With OptinMonster, you can easily create beautiful forms like pop-up forms, email subscription forms, hello bar or sticky announcement bar, and the like.
It comes with smart targeting and personalization features so that you can send the correct pop-up message to your intended users, at the optimum time.
3. Sumo List Builder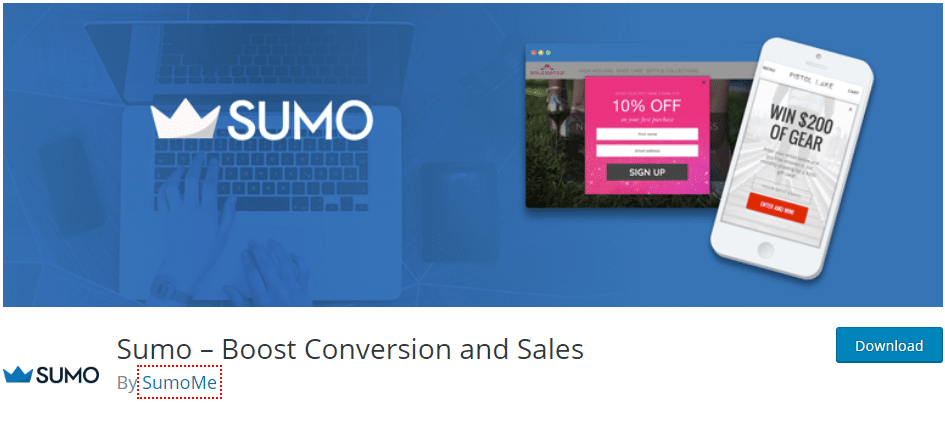 Sumo List Builder can help you grow your user email listing by helping you convert one-time visitors to permanent subscribers. It has creative and beautiful newsletters and pop-ups that appear on clicks and timers, and the moment any user abandons your site.
It has a user-friendly and most advanced drag-and-drop builder, and a great email capture tool. Sumo List Builder is the only mobile-optimized pop-up plug-in that has easy integration with Mailchimp, Campaign Monitor, Aweber, and Constant Contact.
4. HubSpot:

HubSpot is your total email marketing platform that provides bloggers and business owners with better marketing strategies. Attract customers more successfully. Engage with them to nourish established connections. Drive leads into conversions that increase your revenues.
It has free tools like email marketing, CRM, ad management, live chat and chatbots, forms, reporting, and more.
With HubSpot, you can send 2,000 emails for free every month. It has a user-friendly drag-and-drop builder. HubSpot is also natively integrated with WordPress. You can send emails of up to 2,000 per month for free.
It has over 300 tools, so it is quite easy to use. Although reporting and marketing automation is only available in the paid version, it is perfect for growing businesses, agencies, and enterprises.
The plug-in also includes a live chat tool for engaging with site visitors and generating leads off those conversations. You can also use chatbots to respond to simple queries from your site visitors automatically.
You can also automate kickback emails every time somebody signs up for your blog to get the connection and communication rolling right away.
5. MailPoet Newsletter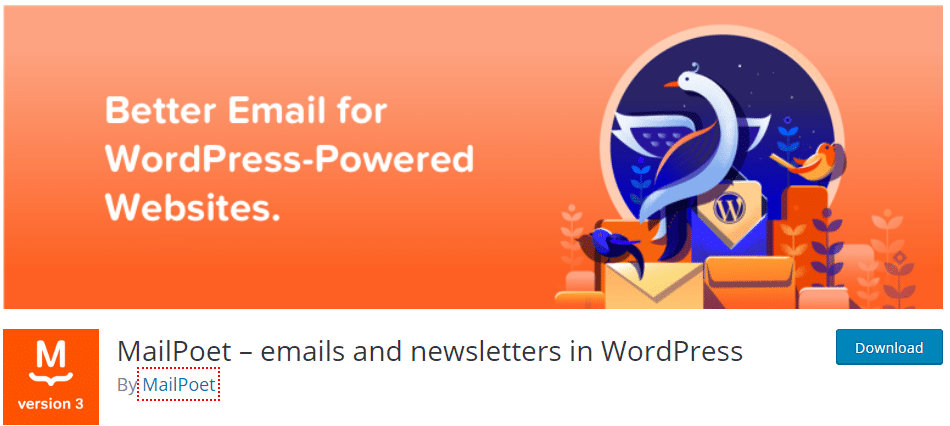 MailPoet is perfect for sending out unlimited emails for up to 2000 email subscribers, all while you are inside the WordPress platform. If you need to send it to more than 2000 people, you can easily switch to its premium version with no delay.
There are many designers and mobile-responsive designs to choose from. A lot of bloggers and developers love using MailPoet for its reliability and friendly customer support.
You have the option to send emails through MailPoet's sending service, and automate welcome messages, and the improvement with their UI/UX is very remarkable.
It is a popular free email marketing plug-in. It lets you manage your subscribers. You can import lists and create forms with ease, plus you can also edit through its drag-and-drop feature.
Upgrades let you send emails beyond 2000 subscribers and unlocks features like being able to know which subscribers have opened an email and track the links people are getting click-throughs in your email campaign.
6. Mailster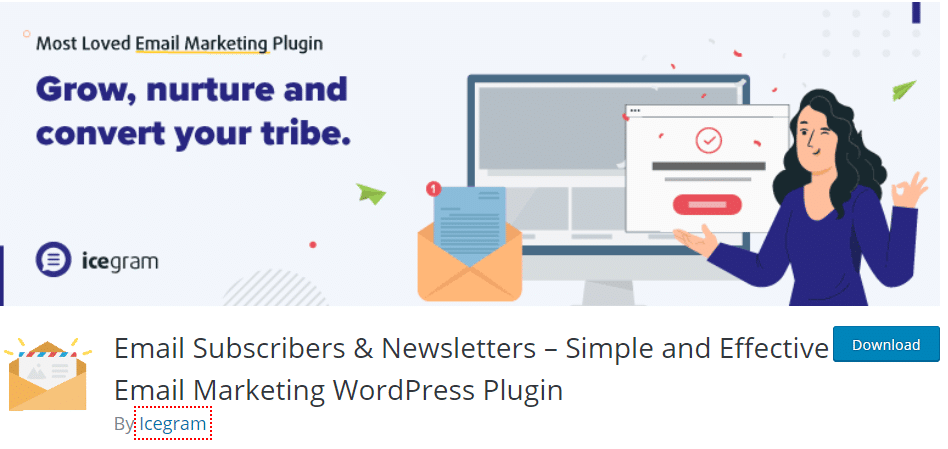 Mailster is a plug-in that helps you build mobile-friendly campaigns with its drag and drop builder. This WordPress Email Marketing is known for its distinctly friendly and adept customer support for enjoyable customer experience.
It is a plug-in that can stand alone and handle everything from the WordPress dashboard. At the same, it easily integrates with other WordPress plug-ins. You are also provided analytics that helps you keep track of your emails and how they perform.
You also get a customizable Auto Responder, unlimited subscription forms, and translation.
7. Email Subscribers & Newsletters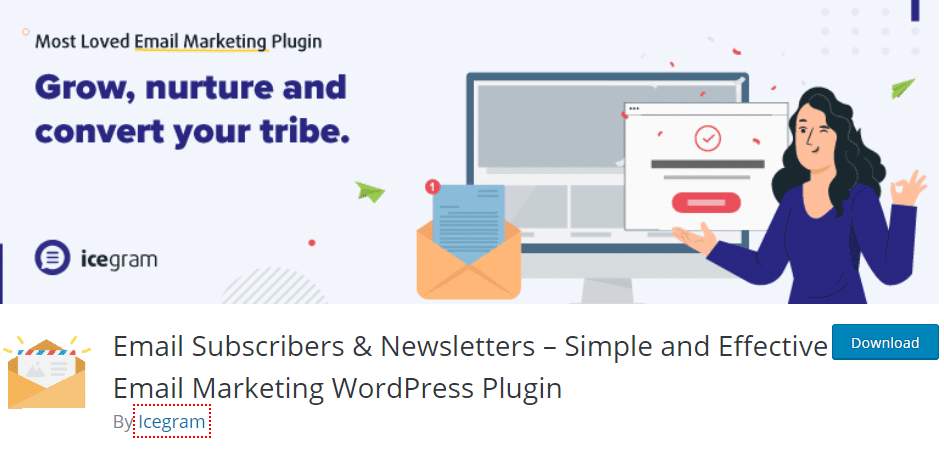 Email Subscribers & Newsletters is a great WordPress email marketing plug-in that comes for free with lots of useful features.
Lead generation becomes straightforward and automated so that you can create new blog posts and newsletters in a single click. You can schedule emails, control user access, and integrate with other WordPress plug-ins.
This plug-in works well with bloggers, website owners, marketers, and web developers. The plug-in also has an accommodating customer support
Email Subscribers and Newsletters also offers double opt-in functionality to ensure you are reaching the correct audience. You also have the option to add captchas to your subscription box to prevent bots from getting you are your mailing lists. Best of all, it comes with list clean-up and spam testing services to keep your plug-in safe.

8. WP Subscriber Pro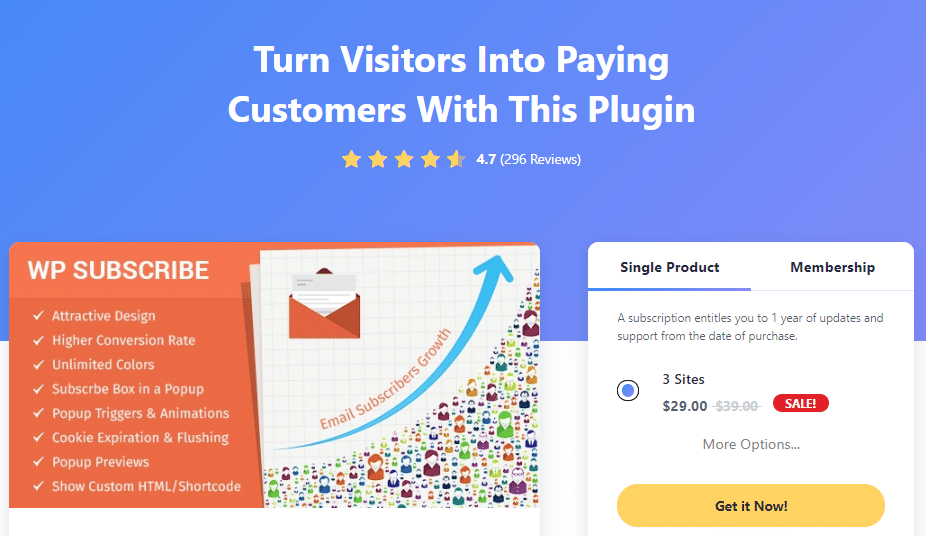 WP Subscriber Pro helps you do email marketing with ease for your WordPress websites. It focuses on boost conversion rates and website traffic,
Known for its speed, you get optimized user experience while growing your email subscriber lists. You can nurture your list successfully as you can send thousands of emails in just minutes.
With WP Subscriber Pro, you can integrate different marketing
plug-ins and services like Mailchimp, Feedburner, Aweber, Benchmark, and the like.
Other features include built-in widget support, pop-up animations, fully-customizable plug-ins, and 24/7 live customer support.
9. Newsletter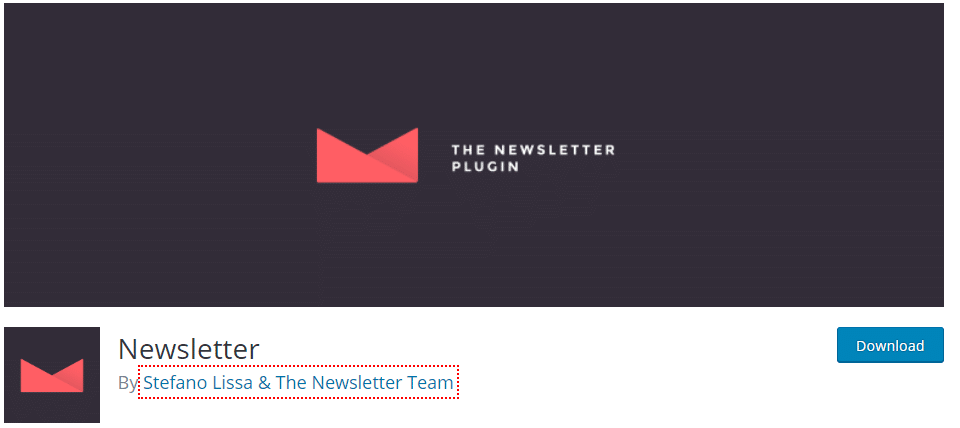 Newsletter goes out of the box to give the best customer experience in promoting your blog and adding subscribers. Bloggers can create unlimited email and campaign for your subscribers.
Built specifically for WordPress, it is mobile responsive and mobile-friendly, can be integrated with the WordPress registration, and comes with helpful and friendly customer support.
This WordPress email marketing plug-in is so easy to install and integrate. This plug-in is perfect for new bloggers because it has everything they need to start their email marketing campaigns.
Newsletter also has a built-in reporting, automation features, and works well with other WordPress tools for email marketing. However, it may not be suitable for larger blogs or websites. You may have to Amazon SES add-on if you are using it on a larger scale email campaign.
Plug-in is free, but you can upgrade to premium to unlock all features.
10. SendInBlue



SendinBlue is a cloud-based digital marketing tool that currently serves over 50,000 growing companies globally.
With the SendinBlue WordPress plug-in, create beautiful, user-friendly forms, manage subscribers list, launch email marketing campaigns, and monitor progress with the included metrics or reports.
The plug-in also has a transactional email that can be sent using SendinBlue's SMTP, useful for sending order confirmations and implementing customer updates.
With the WordPress plug-in SendinBlue, easily send emails and newsletters by the thousands directly through your WordPress. Build, grow, and segment your target audience while fully integrated with WordPress and other plug-ins.
This plug-in is best for businesses and advanced users. It can be utilised for all types of blogs and websites as well. Send up to 9,000 emails monthly for free, perfect for SMEs (small-to-medium-sized enterprises) and blogs.
11. EasySendy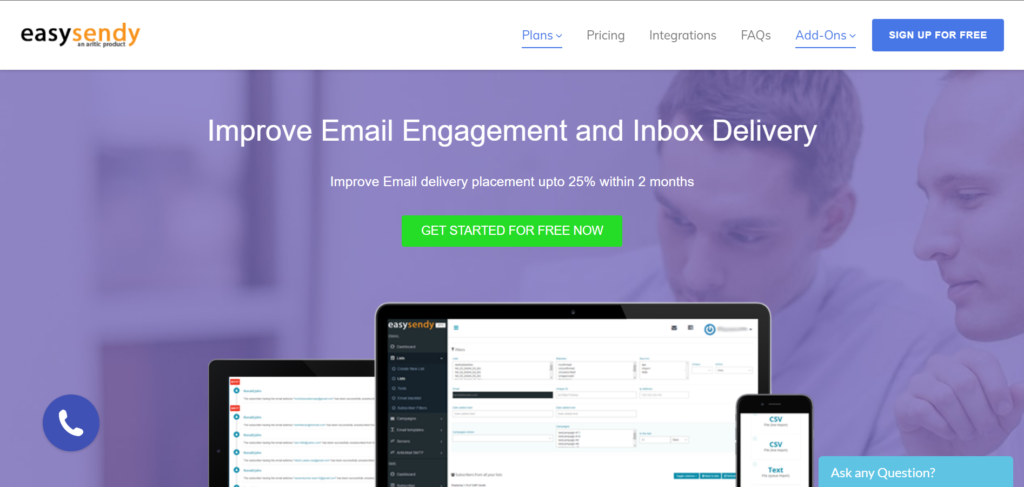 EasySendy is an all-in-one email marketing solution that allows you to carry all your various marketing channels together and accelerate traffic, a higher conversion rate, and better ROI for online geeks, marketers, small businesses, and startups. In addition, you can easily design email templates for your campaigns.
EasySendy is an affordable and easy-to-use feature that will boost your business performance by improving sales, open, and click-through rates.
Increase your sales with Easysendy email marketing solutions across all industries; Easysendy can help businesses extend their reach, boost conversion rates, create a bond with their audience, and increase sales.
Conclusion: Choose the Right WordPress Email Marketing Plugin
WordPress marketing plug-ins extend the functionality of WordPress. It makes digital marketing easier on the part of bloggers and web developers.
Different marketing tools needed for a campaign can all be in one place, fully integrated, and working well with other tools like you can buy dropbox storage for better experience in the WordPress environment.
Choose the best email marketing plug-in that fits well with your marketing goals for your site or blog. Your choice needs to take into consideration the number of subscribers you have, how often you want to send email campaigns, and the type of content you want to send out each time.
What is excellent with WordPress is that, whatever you need, no matter how you envision your email campaigns to be, you will surely find the right plug-in that will meet your email marketing needs.
---
Author Bio:
Mayleen Meñez worked for seven years in TV and Radio production, and also as a Graphic Artist/Editor. Finding her true passion, she devoted 15 years in NGO and community development work, where she experienced being a coordinator and teacher, travelling both in the Philippines and countries in Asia. She homeschools her three kids and reinvents Filipino dishes in her spare time. Writing has always been a hobby and pursuit, and she recently added content writing with Softvire Australia and Softvire New Zealand up her sleeve, while preparing for her next adventure in the nations.