Ever since there is an expanding infiltration of mobile phones, tabs, and other devices among the customers, there is a continually growing percentage of clients that choose to shop through multiple channels. 
With the persistently rising social media, they rely on online content accessible to educate themselves about the product. The major advantage of product reviews is that they are easily available. Additionally, it plays a crucial part to convert a potential buyer to a customer. 
Educate With Digital Signage
Any commercial environment can gain a new life with the support of digital signage. Consumer attention can be easily grabbed with digital signage. Additionally, it also delivers custom-designed messages to customers which is an essential factor to enhance user experience about your brand products and services. Display images, videos, and other content with the help of digital signage from small screens to giant video walls.
Digital signage will help you change the manner in which you have done business and served clients previously. It acts as a friend to clients that help them research, provide reviews, and make clients be certain about making purchases before stepping out of the store. This will not only be a remarkably tremendous experience for the clients however also help the business to gain customer trust.
Why Is Digital Signage Vital?
Digital signage is alluded to as one of the cheaper ways to reach your target audience in comparison to other mediums of digital marketing. As a result, it provides the brand total control over how they want to be displayed. 
Also, digital signage is important to enhance the social media presence of your brand, boost sales, and emphasize more on powerful and relevant content updates. With the help of digital signage, you can educate, inform, entertain and communicate with your customers. Also, it is essential in informing customers about the sales, new releases and product information.

How Reveiws In Digital Signage Helps To Gain Customer Trust?

Make Your Business More Credible With Positive Reviews
For clients, reviews are the best way to know if your brand is or not. A new business or one with less reviews does not have the ability to attract a lot of customers. Thus, reviews are a good way to show your customer about your business credibility. 
For customers, businesses having less reviews or negative reviews is not worth their time and money. As a result, reviews affect the purchasing decision of a customer in just a few seconds.
An interesting study from Zendesk showcased that- digital shopping keeps on embellishment clients desires with an ever-increasing number of positive reviews. While taking a gander at the reviews on digital signage they get the data they have to settle on buying choice.
Develop Good And Solid Customer Relationships
For every business, it is very important to maintain a healthy and good relationship with their customers. Through reviews, you can easily get to know about your customer interests, feedbacks, liking-disliking, responses, etc.
It is essential to gain knowledge about the wants and needs of your customers. By knowing their desires it will help you create a sense of personal connection with them. Digital signage offers you a good opportunity to build good customer relationships.
According to Nielsen, 92% of the clients will trust on online reviews over what a brand would say.


Review Help To Expand Life Awareness Of Your Brand.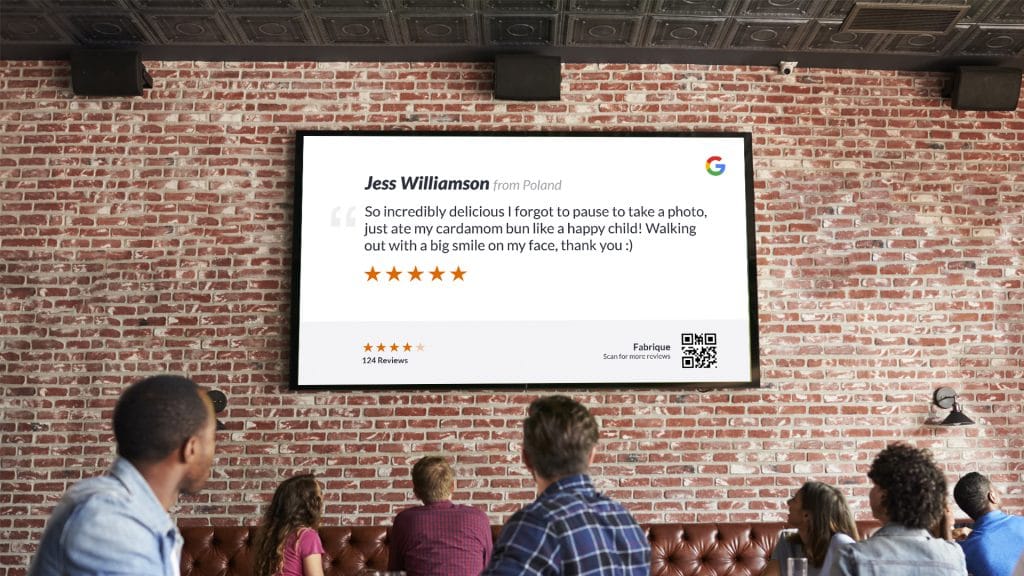 Every Review that showcases when are the past experiences of your customers is definitely helpful in enhancing your brand awareness. By displaying these positive reviews on digital signage you can easily amplify your brand awareness and gain customer trust.
In a survey by Bright Local, 88% of consumers said they trust online reviews as much as personal recommendations. Thus more and more people are placing trust in online reviews which is a good sign. This is a good number through which you can make your brand reach heights.


Final Words
Digital signage helps you understand your clients better. This is the right step towards boosting your brand awareness and holds a huge scope. Not only digital signages help you in gaining customer trust but also harnessing the gap between your brand and customers.
Thus what are you waiting for, add reviews in your digital signage now and gain customer trust? Amid the post lockdown time, digital signage has become immensely popular. As no customer has much time and money to invest in the wrong brand or business.